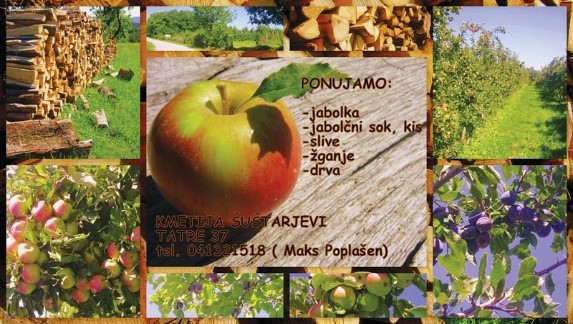 Sadjarska kmetija Šuštarjevi
GSM: 041 321 518
Visits: by appointment The farm lies at the heart of Brkini, in the Tatre village. They have an apple orchard of 0.8 ha with 2,000 apple trees, located near the village, at an altitude of 740 m.
Offer of the farm: apples of different varieties (Jonagold, Idared, Golden Delicious and Melrose), apple cider vinegar, apple juice, brandy, slivovec and burning wood.
Sights: the Dimnice Cave, the Prem Castle, the Tatre adrenalin park (paintball), mushroom picking sites in oak and beech forests, an unforgettable picturesque landscape, the Brkini Fruit Road and the Postojna Cave.